Ten-tonne tree moved from River Teme at Tenbury Wells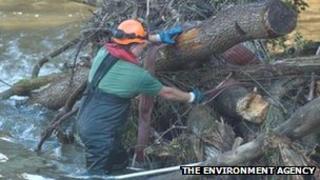 The Environment Agency had to remove 10 tonnes of a tree blown down in strong winds from a river in Worcestershire.
Experts had to remove the tree, which was blown into the River Teme at Tenbury Wells on Saturday, with the help of machinery.
Dave Throup, from the agency, said it was vital to remove the blockage before it caused river levels to rise in the previously flood-hit area.
There were flood warnings on the Teme last week after heavy rain in the area.
Mr Throup said officials were called to two other incidents in Worcestershire in the past week to clear blockages.
On Thursday they removed wood that had become stuck under the bridge at Powick and on Friday they cleared a blockage at Shelsley.