Inquest opens into death of head teacher Helen Mann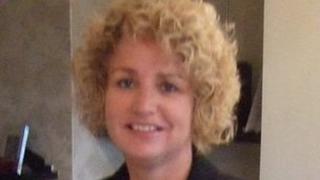 An inquest has been opened and adjourned into the death of a Worcestershire head teacher who was found dead at her school.
Helen Mann, 43, was found hanged at Sytchampton Endowed First School, Worcestershire Coroners' Service said.
She died during a teacher training day on Monday. The inquest was adjourned while reports were prepared.
A church service was held for those affected by her death at St John's Church, Bromsgrove, earlier.
Pupils, staff and teachers from Millfields First School, where Mrs Mann used to be deputy head teacher, lit candles at the church in her memory.
The mother-of-two had worked at Sytchampton school since Easter.
The school reopened on Thursday. Pupils and staff have been offered support.