Flood warnings on Severn and Avon in Worcestershire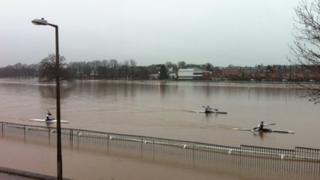 Eleven flood warnings have now been put in place in Worcestershire following heavy rain.
Eight of them apply on the River Severn between Worcester and Upton-upon-Severn.
Three of those are in the Upton area - at East Waterside, Hanley Road and Rectory Road, the Environment Agency (EA) said.
There are three warnings on the River Avon in the county, between Pershore and Tewkesbury.
Severn Trent Water and the EA were working together on Worcester's Hylton Road, which was reduced to one lane due to water, the agency said.
At Kempsey, where one warning is in place, resident Dan Corns said two pumps were moving water from the brook on the village side of Kempsey on to flood plains.
He said: "The pumps seem to be doing their job. They're being manned manually. It's all holding within the brook at the moment."