River Severn flood warnings remain in place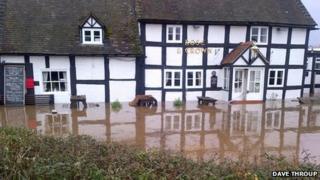 A number of flood warnings remain in place in Worcestershire, mainly on the River Severn, the Environment Agency has said.
More rain is expected over the next 24 hours, although warnings in place for the River Avon since Saturday were downgraded on Thursday evening.
In the village of Severn Stoke the church and pub were both flooded.
Temporary flood barriers put up to protect properties in Bewdley have worked, according to a resident.
Peter Friar, the landlord of the Rose and Crown in Severn Stoke, said water began coming in late on Christmas Day followed by a surge in floodwater on Boxing Day.
"The Environment Agency said there will be another surge at the weekend and then hopefully it should get better next week some time," he said.
Stan Lewis, who owns a shop in the Bewdley, said: "They put the fences up in good time.
"It was very threatening a couple of days ago but it has dropped three feet and it's well within the banks at the moment."
In Worcester flooding closed the A443 Hylton Road between Tybridge Street and Henwick Road.
Herefordshire alerts
Concerned residents in Upton-upon-Severn said the town's barriers were causing a knock-on effect with floodwater affecting roads near the marina and homes along East Waterside.
The Environment Agency also issued alerts for several other rivers including the Monnow and Arrow in Herefordshire.
Roy Stokes from the agency said: "There's another band of rain coming which will probably affect Herefordshire and Worcestershire so the already very swollen rivers are likely to go up again as the week progresses.
"The Wye is going down and still dropping but it may come back up with this extra rain.
"The River Severn is very likely to be very swollen and high for the next five or six days."
The Met Office confirmed that 2012 was the wettest year in England since records began in 1910, with new records also set in the Midlands region.