Worcestershire flood warnings removed by Environment Agency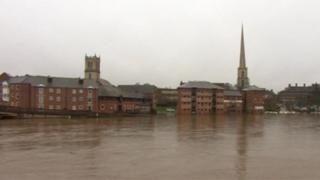 Some of the 13 flood warnings in Worcestershire have been downgraded by the Environment Agency (EA).
Several areas on the River Severn were at risk but warnings for Hawford Wood, Holt Fleet and Northwood in Bewdley have been lifted.
The agency tweeted earlier that flood barriers in Bewdley have been taken down. They were erected before Christmas.
The Severn was expected to peak at Worcester and Bewdley on Thursday.
Others warnings in place for the Severn are at north Worcester, Bevere, Callow End and Court Meadow, Kempsey, and at Clifton and Severn Stoke including Clevelode.
Flood barriers were removed on the River Wye after it peaked on Tuesday morning in Hereford.