Worcester City FC fans plan to build 'modest stadium'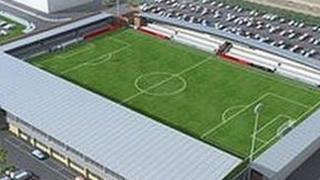 Fans of Worcester City Football Club are to apply to build a new ground, despite the club's own plans to build a new stadium.
Worcester City sold its current ground, St George's Lane, for housing development and has to leave it by the end of the season.
The City Supporters Trust wants to build a £2m sports hub in Perdiswell which would include a new ground.
Rob Creane from the trust said fans had doubts over the club's stadium plans.
The decision on the 3,000-seat Nunnery Way site, near junction 7 of the M5, was made at a meeting last year.
Club future doubts
Mr Creane said members of the trust hoped their proposals would work alongside Worcester City Council's plan to build a new £13m swimming pool at Perdiswell, replacing one at Sansome Walk.
He stressed the plans were being put forward by the trust as an independent body, separate from the football club.
Mr Creane said: "We're always slightly concerned as there have been delays in the planning.
"With the club having to leave St George's Lane this season we think the chance of surviving ground share would be narrow to none.
"We're proposing a football ground and community sports hub near to where the city's pool [could be] be relocated and it will be a modest low level stadium."
Mr Creane added the trust hoped to apply for grants to fund the project if it were to be approved but raise some of the money locally.