Environment Agency issues flood warnings as snow thaws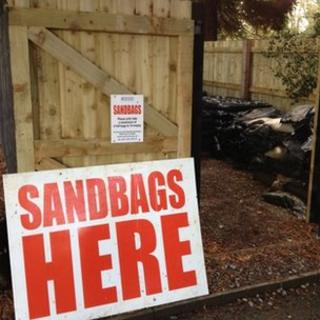 People living in Herefordshire and Worcestershire are preparing for flooding as snow starts to thaw.
Warnings have been issued for rivers in both counties by the Environment Agency.
Sandbags have been made available at the Lido in Droitwich and many roads have been affected.
Jim Wainwright, landlord of The Camp House Inn at Grimley, said he was "very concerned" at the risk of flooding after being badly hit over Christmas.
The pub was holding a Christmas Day lunch on Sunday after being forced to cancel its normal Christmas celebrations due to flooding.
Mr Wainwright, whose family has run the pub on the banks of the River Severn for 75 years, said: "We couldn't do a thing over Christmas, Boxing Day or New Year and we lost around £6,000 if not more.
"It was miserable and the river was creeping up the bank on Sunday and it's very worrying."
The Wye, the Avon at Strensham, Bredon and at Wyre Piddle, and also the Teme at Stanford Bridge were at risk.
The M50 eastbound at junction two was down to one lane due to flooding and the Eckington and Jubilee bridges have been closed by Worcestershire County Council.
Herefordshire Council warned drivers may face difficult conditions due to surface water on the A456 Brimfield to Little Hereford, the A44 Kington to Pembridge and the A438 Bishopstone to Witney.
Dave Throup, from the Environment Agency, said the River Wye was "rising very quickly".
The agency has published a live floods map.