Worcestershire flood barriers put up as river levels rise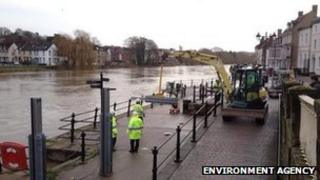 Flood defences have been put up in Worcestershire as melting snow and heavy rain raise the river levels.
The Environment Agency said temporary barriers will be put up in Severnside North, Bewdley.
The flood gates have been closed on the defences at Upton upon Severn, the agency said. The Eckington and Jubilee bridges have been closed by Worcestershire County Council.
Several flood warnings have been issued for Herefordshire and Worcestershire.
They include three new warnings on Monday evening, two of which apply in Upton upon Severn, at Rectory Road and Hanley Road.
Andrew Clifford, from the Mughouse pub in Bewdley, said the barriers were doing "a very good job".
Car rescues
"Without them we would have been closed on Christmas Day and New Year's Day if they hadn't been up and working, so they save us an awful lot of cleaning up, a lot of messing around," he said.
Hylton Road in Worcester was closed between 12:30 and 14:00 GMT while pumps were installed behind the flood defences.
Jackie Smith, who lives in Kempsey near Worcester, believes the defences put up along the River Severn since the floods of 2007 have made the situation worse where she lives.
"The water's got to go somewhere and unfortunately rural communities who live by the riverside are having to bear the brunt of that," she said.
She has spent £40,000 since the 2007 floods raising floor levels in her house and installing other defences.
Hereford and Worcester Fire and Rescue Service has warned people to take care on the roads after carrying out three rescues of people who had become trapped in flood water on Sunday.
Specialist water rescue teams rescued people from their cars along the A438 near Willersley at Letton, near Eardisley and in Kinnersley.
The M50 eastbound at junction two for Ledbury was reduced down to one lane because of flooding.