Schmallenberg: Farmers on 'tenterhooks' during lambing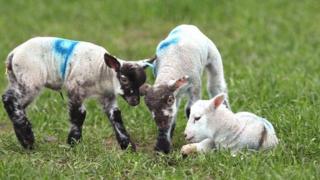 Sheep farmers are on "tenterhooks" as lambing season builds because of the Schmallenberg virus, a Herefordshire farmer says.
Steve Deakins said his flock had been "devastated" by the virus after finding between 35% and 40% were carrying it.
It was first detected in the UK early last year but has now spread to more than 1,000 farms across the country, the National Farmers Union (NFU) said.
The virus causes lambs and calves to be stillborn or deformed.
The situation was discussed by farmers, vets and farming specialists at a meeting at Hereford Livestock Market on Monday.
'Hit lowest level'
The NFU has called for a vaccine to be made available for the virus, which is spread by midges, as soon as possible.
Mr Deakins said he had suffered "heavy losses".
"The first we were aware of it was in the news and at scanning... they said they detected irregularities in the ewes so we were pretty shocked to discover we had the disease.
"As we approached lambing, they were aborting, having mummified lambs and dead ones as well as good lambs.
"At this point we have suffered very heavy losses. It's very, very concerning because every flock in England is vulnerable.
"Most lambing happens in February and March and everyone is on tenterhooks about what's going on."
An NFU spokesman said: "While the disease is still recognised by Defra and the EU as 'low impact', at a more local scale the cost for individual businesses can run into thousands of pounds.
"At the same time lamb prices have hit their lowest level for three years and livestock producers are facing rising production costs due to the extreme weather throughout 2012 and at the start of this year."
A spokesman for Defra said a vaccine would be available soon but necessary safety checks had not yet been completed.
"Although some farmers reported losses of 30 to 40%, overall we are still seeing that the picture is low, lower than some other diseases that affect farmers.
"Obviously it is really awful for those affected.
"We hope to have a vaccine soon. One has been put forward but we obviously have to be sure it works and is safe.
"It won't be out in time for this lambing season - but we hope it will be out soon."