Astley villagers' gardens still flooded after 10 weeks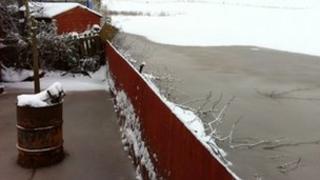 Residents in a Worcestershire village that is still flooded after 10 weeks have called on the council to take action to clear the dirty water.
Twelve houses in Astley still have water in their gardens from a flooded field at the back of their properties.
David Bishop, who lives in one of the houses, said there was a terrible smell from the stagnant water.
The council has said drainage engineers will meet the owner of the flooded field later this week.
Mr Bishop said the problem is so bad he and his neighbours can no longer hang washing out in their back gardens.
"What we want done is new drains put in, or a pump to pump out all the water that is lying here at the moment," he said.
The field has been flooded in each of the past seven years, Mr Bishop said.
Phil Grove, of Malvern Hills District Council, admitted the flooding problem had been "going on for many years" and said the council wanted to find "a long-term solution".
Drainage engineers would be "walking the field" with the landowner to see if the council needed to put in more drainage, Mr Grove said.