Moreton-on-Lugg rail crossing death: 'Network Rail would not spend £40k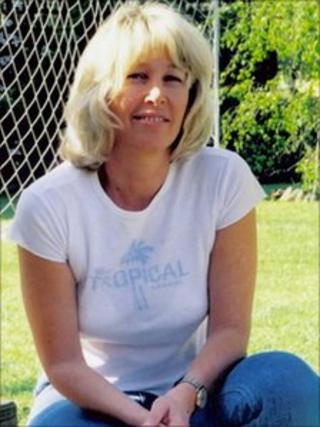 A £40,000 lock could have prevented the death of a woman on a level crossing in Herefordshire, a court has heard.
Jane Harding, 52, died when the car she was in was hit by a train at Moreton-on-Lugg three years ago.
The prosecution told Birmingham Crown Court Network Rail would not spend money on an automatic locking device.
The company, and signalman Adrian Maund, have pleaded not guilty to failing to ensure the safety of a person.
Phillip Mott QC, prosecuting, told the jury Mr Maund, 42, "panicked" when a farmer rang his signal box for a second time asking if it was safe for him to walk his sheep across another crossing further up the track.
As he did not want the farmer to wait any longer Mr Maund lifted the barriers, but did not see the Manchester Piccadilly to Milford Haven train approaching at 80mph (129km/h), the jury heard.
It crashed into the car in which Mrs Harding was a passenger, killing her. Her husband Mark survived.
The prosecution told jurors that although it may be a case of human error, Mr Maund's employer, Network Rail, is equally culpable for Mrs Harding's death.
The jury heard the company did not want to spend £40,000 on an automatic locking device for the Moreton-on-Lugg crossing as part of improvement works a year earlier.
Mr Mott said: "Network Rail took the decision not to install this device because it would cost £40,000 - that device could have saved a life."
Mr Mott told jurors: "Why not put in this approach-locking device? The reason was 'money'. Was the cost too great to avoid the cost of a human life?"
The trial continues.