Georgian firm in Rotherwas Enterprise Zone plant talks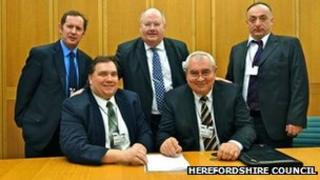 An aviation firm from Georgia would create "about 400 jobs" if it located a new factory in Herefordshire.
A delegation from Tbilisi Aerospace Manufacturing (TAM) has met Communities Secretary Eric Pickles and visited the Rotherwas Enterprise Zone this week.
A TAM spokesman said a UK factory was an "attractive" proposition and would help it access "Western markets".
Herefordshire Council said the factory would not be ready for at least two years if the planned deal went ahead.
It added that the company intended to "build components for a new small passenger jet".
The general manager of TAM, Nodar Beridze, was among the delegates who toured the proposed site at the Rotherwas Enterprise Zone on the outskirts of Hereford.
Speaking through an interpreter, Mr Beridze said: "It was interesting, successful and informative. Everything went well.
"For our company, as well as our country, it's very interesting to deal with countries like the United Kingdom.
"The site and area is attractive for us because of the industrial zone.
"Being presented in this area means to get access to Western markets.
"That's very interesting and absolutely necessary for us."
'Local supply chain'
Last week representatives of a Ukrainian aerospace firm met with Mr Pickles over proposals for a base in Ross on Wye that could create 700 jobs.
Both deals have been brokered by the Get It Group which works in helping establish manufacturing campuses in a number of countries.
Herefordshire Council cabinet member for enterprise Roger Phillips said the TAM deal was likeliest to be completed first.
Mr Phillips said: "We're talking about a two to two-and-a-half-year lead-in time.
"They're talking about 300 to 400 jobs and then there's the supply chain as well.
"It's up to us to develop that supply chain as locally as we can but the important thing is to get that core centre there."