Badger sett causes Herefordshire bridge to be closed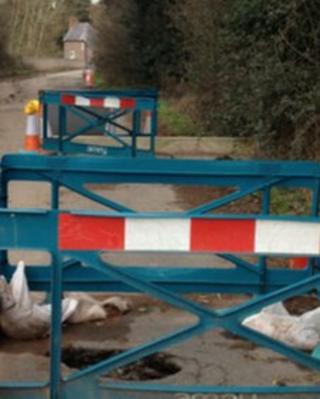 A badger sett has led to the temporary closure of a Herefordshire bridge after it created subsidence on a nearby road.
The Hoarwithy Bridge to Kings Caple road, over the River Wye, closed after the burrowing on the Kings Caple side made it unsafe.
Extensive repair work cannot take place immediately due to the badger breeding season, which lasts until about June.
Councillor Barry Durkin said steel plating will be put over the road, as an intermediate repair, by 15 February.
It will reopen as a single lane and will be controlled by traffic lights.
Cannot disturb badgers
Councillor Barry Durkin said: "The problem is not just the fact is that it's not a piece of road that can be covered in five seconds… We have legal problems that are happening at the moment with the badger sett.
"Nobody is able to disturb them at all until June and, in addition to that, only after June with a license."
Councillor Durkin said that the authority is working closely with Natural England and that after applying for a licence, it will look at the road infrastructure to accommodate the badgers and the health and safety and convenience of local people.
Councillor Graham Powell, cabinet member for infrastructure and education said: "We appreciate that this road closure is causing disruption.
"The work will begin early next week and we anticipate the road will be open by the end of next week."