Toddler Charlie Harris-Beard dies after leukaemia fight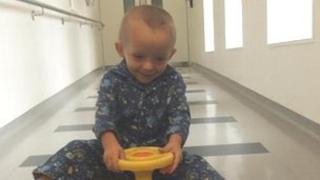 A toddler whose fight against leukaemia reached more than two million people through a social media campaign has died from the disease.
Two-year-old Charlie Harris-Beard, from Kidderminster, had a form of acute myeloid leukaemia.
Charlie, who was being treated at Birmingham Children's Hospital, contracted pneumonia last week.
Friends of the family used the Thunderclap website to raise awareness of his condition.
In December the toddler attended his parents' wedding.
Charlie was first diagnosed with the rare form of leukaemia at 10 months old and underwent four courses of chemotherapy.
During the course of his treatment, he received a bone marrow transplant and stem cell treatment from an umbilical cord donated by a woman in the US.
He was readmitted to Birmingham Children's Hospital last year and in November his family were told he had just weeks to live.
It had been hoped he would be able to undergo a new drug trial but last week contracted pneumonia.
The Thunderclap site has previously been used by the Royal British Legion to promote the two-minute silence on Armistice Day and by the UN to support World Humanitarian Day.
It sends a co-ordinated message on both Facebook and Twitter to feeds of anyone who has chosen to follow or be friends with Charlie on the social media sites.