Hereford Cathedral in £250k restoration bid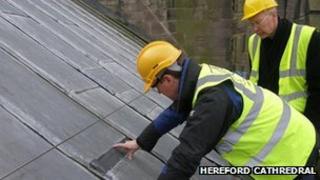 The roof of Hereford Cathedral urgently needs to be repaired, according to church officials.
Other restoration work to repair stonework at the west end of the 12th Century cathedral is already under way.
The church said repairs costing about £250,000 were now required after lead panels slipped over the north transept, allowing water to leak in.
The Very Reverend Michael Tavinor, dean of Hereford, said about £200,000 had already been secured in grants.
"We always knew that the roofs would be one of the next great projects," he said.
"However, over the past 12 months the lead panels which make up the north transept roof have deteriorated faster than expected."
He said holes had been temporarily repaired with lead strips, but the panels urgently needed to be replaced.
The cathedral hopes to raise £50,000 from a public appeal.