Redditch Alexandra Hospital trust debt 'time-bomb'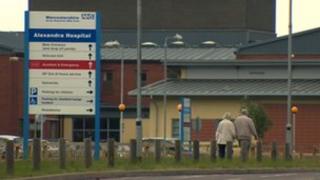 A debate on the future of the Alexandra Hospital in Redditch has heard its finances are "a ticking time-bomb" for the NHS.
Conservative MP for Redditch Karen Lumley led the Westminster Hall debate.
It covered a possible takeover of some services at the hospital once commissioners are responsible for the hospital in April.
Three Birmingham health trusts have been consulted about providing services.
The new Redditch and Bromsgrove Clinical Commissioning Group (RBCCG) takes over in April and has started "initial discussions" with University Hospitals Birmingham NHS Foundation Trust, Birmingham Women's NHS Foundation Trust and Birmingham Children's NHS Foundation Trust.
These could provide some services in the future for Alexandra Hospital patients.
Closure fears
In December the trust was given an emergency loan of £12m from the government.
Repayments on its debts are expected to be paid for a further 20 years.
Ms Lumley said: "Currently we have a ticking time-bomb situation where a £1.9m deficit has to be met by April."
Campaigners fear reductions in services at the hospital could include the closure of the accident and emergency (A&E) department.
Proposals to reduce or close the A&E and maternity wards have been made on three occasions in the last 15 years.
Health Minister Daniel Poulter said: "I know there has been very strong local feeling and opinion I'm sure that is something that will be listened to very carefully when decisions about the future are being taken into account ."
The Worcestershire Joint Services Review Steering Committee will meet on 26 February to decide on options to go to consultation.
Public consultation is expected to be held in the summer.