Charlie Harris-Beard: Funeral for toddler with leukaemia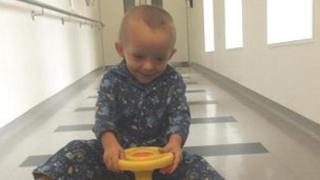 The funeral has taken place of a toddler whose fight against leukaemia reached more than two million people through a social media campaign.
Two-year-old Charlie Harris-Beard, from Kidderminster, had a form of acute myeloid leukaemia.
Charlie, who was being treated at Birmingham Children's Hospital, contracted pneumonia.
The funeral was held at St Mary's Church, Churchfields, followed by a private crematorium service.
Friends of the family used the Thunderclap website to raise awareness of Charlie's condition.
He was first diagnosed with the rare form of leukaemia at 10-months old and underwent four courses of chemotherapy.
During the course of his treatment, he received a bone marrow transplant and stem cell treatment from an umbilical cord donated by a woman in the US.
He was readmitted to Birmingham Children's Hospital last year and it had been hoped he would be able to undergo a new drug trial.