Worcestershire school meals tested for horsemeat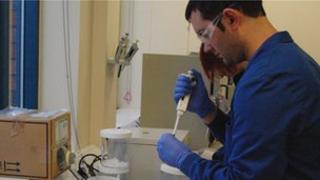 School meals in Worcestershire are to be tested for horsemeat, experts said.
Worcestershire County Council Scientific Services said it has been asked to carry out tests. The results are due next week.
It follows the news on Thursday that beef is being removed from school meals across Staffordshire as a precautionary measure amid the horsemeat scandal.
Several processed meat products have been withdrawn from sale across the UK after horsemeat was detected.
'Rushed off feet'
On Thursday the county council said it was up to individual schools to make their own decisions about removing beef from school menus.
Scientific Services unit manager Paul Hancock said: "We feel it is appropriate that, in light of the recent horsemeat issues, we should conduct these food tests both to re-assure parents and to help schools ensure that the meals they provide are of the required standard."
Worcestershire County Council is one of "a small number" of local authorities across the country who have a specialist scientific testing facility, he said.
The unit is carrying out test on samples from across the UK.
He added: "We are absolutely rushed off our feet - we had 300 samples of meat to analyse for traces of horse last week.
"We are constantly working over and above our normal day and we'll be working over the weekend."