Couples left without Inn At Stonehall wedding reception venue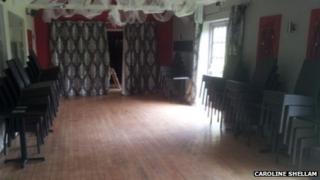 About 10 couples have been told weeks before their weddings they will be unable to use a Worcestershire venue.
Caroline Shellam said she had been "devastated" after hearing by email on Saturday her reception on 25 May at the Inn At Stonehall would be "unlikely".
The catering company that ran weddings at the venue blamed differences it could not resolve with the inn's owner.
Owner Joanna Coull apologised to the couples but "could not comment further because of potential legal action".
Ms Shellam said she had booked the venue with her fiance Thomas Horn in August and said she had "never, ever thought" there would be any problems.
"We had just finished putting the wedding invitations in envelopes and were just about to post them when I got the email," she said.
'Complete nightmare'
"We're really going to struggle to find somewhere else in such little time - and we had chosen the bank holiday weekend, so everything's booked out already.
"Our wedding ceremony is in Malvern, so we're restricted to that area to look for a reception venue. We've got guests already booking accommodation near to the inn - it's a complete nightmare."
She said the couple had already paid a £500 deposit and would now also lose the cost of the invitations, which would need reprinting if another venue could be found.
On Saturday, the couples received an email from Adrian Roberts, from caterers Four Leaf Clover, which took over the organisation of weddings at the venue from another chef last year.
In it, he said he had "been unable to reach a satisfactory agreement" with Ms Coull over a dispute and added it was "unlikely that your wedding will proceed there".
On Tuesday Mr Roberts said: "All couples who had made deposit payments to Four Leaf Clover have been repaid."
Charlotte Berlyn, from Pershore, had been planning to hold her reception at the venue in July.
She said she had since been able to rebook at another venue but added she "was assuming" she would lose the £250 deposit she had paid to the Inn At Stonehall.
Ms Coull said she was now contacting the couples in turn to explain the situation but was unable to speak further publicly at present.