Alethea Taylor had no history of mental health problems says GP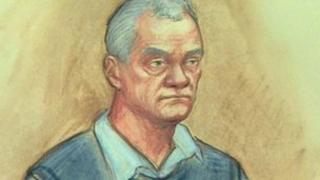 The doctor of a woman allegedly murdered by her funeral director husband said she had no history of mental health problems.
John Taylor, 61, who denies killing his wife, Alethea, 63, had tried "to spread around" the idea she was "in some way, losing her mind" a court has heard.
The prosecution at Worcester Crown Court claim he killed her and disposed of her body on 18 or 19 January 2012.
Mrs Taylor was last seen in Orleton, Herefordshire, last year.
The jury heard written testimony from Mrs Taylor's GP, Richard Dales, who said Mrs Taylor had no history of mental health problems.
The court heard she suffered only one episode related to mental health, when she complained of "work stress while working as a primary school teacher in 2001.
Friends of Mrs Taylor told the court they were "gob-smacked" when her husband told her his fears about his wife's mental state.
Rita Tetsill said she had known Mrs Taylor more than 40 years and described her as a "proud and private" person who was "very popular".
Mrs Tetsill said: "She kept in contact with lots of people, and she never missed a birthday or an anniversary, she had a lot friends."
She said Taylor told her that when he had left his wife go out [on January 19] she was going to go to the doctors to make an appointment.
Mrs Tetsill told Jonas Hankins, prosecuting: "I was surprised because if it had been my husband, he'd have gone to the doctor's with me."
'Worst case envelope'
Dr Dales said the last contact Mrs Taylor had with her surgery was on December 5 2011 regarding a prescription for antibiotics for an infection.
Another friend, Eve Martin, said Mrs Taylor had posted her a card two years before her disappearance explaining there was an envelope kept in her locked bedside drawer "just in case".
Mrs Taylor had written in the card that the envelope was to be opened "in the worst case" adding "I am being silly but I can't help it."
She added she did not know the contents of that envelope.
The courts also heard it was after the break-up of her first marriage and while holidaying in Jersey with Mrs Tetsill, that Mrs Taylor met her future husband.
Taylor, married to another woman at the time, left his wife and later moved to a bungalow in Orleton with Mrs Taylor, who he married in 1996.
In the summer of 2011 Mr Taylor began an affair with Alison Dearden, from nearby Brimfield.
The trial continues.