Lingen bridge in Herefordshire reopens seven months after closure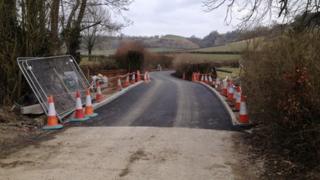 A Herefordshire bridge has reopened to most traffic seven months after it closed because of floodwater.
The bridge connecting Lingen to Deerfold was meant to open in December, but building work was delayed.
Builder Amey said work had been affected by the wet and freezing weather which had delayed the laying of concrete at the site.
Residents on one side of the village said they had to make a 20-mile (32 km) detour to get to the other side.
Farmer Steve Deakin said he was "absolutely thrilled" it had reopened. "It will make our lives an awful lot easier," he said.
Earlier, he said the bridge had closed for about three months before work started and it was then "such a slow job".
Mr Deakin said it had cost £2,000 extra to harvest his crops because he had to take his machinery along the detour to reach fields.