Wye Valley NHS Trust 'could be broken up'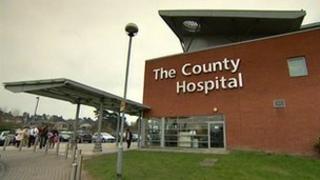 An NHS trust in Herefordshire could be taken over, broken up or privatised to help it out of its financial problems.
Managers at the Wye Valley NHS Trust said they needed to save £8.8m over 2013-14 and that the trust was too small on its own to survive.
They said the trust, which runs Hereford County Hospital, had to become a junior partner in another trust or go into partnership with a private firm.
Interim chief executive Derek Smith said "no change is not an option".
However, he added that whatever happened, several essential services had to remain local to the area, including an accident and emergency department, emergency surgery and maternity and children's care.
He said: "We're going to have to make some tough decisions, but we will not lose sight of the fact that patients are at the heart of what we do and that any decisions will be centred on meeting the needs of the people we serve."
Job losses
Mr Smith said that over the next five years, the trust's financial position "if anything gets worse" and said it would be unable to become a foundation trust.
He said that the government had a set a deadline of March 2014 for all NHS trusts to become foundation trusts, meaning they would have greater freedom over how money is spent.
The trust said it did not yet know how many jobs would have to go over 2013-14 and said most would go through "natural turnover". However, it said it could not rule out compulsory redundancies.
It said the options for the future would be firmed up by the end of March and they would then be explained in a consultation process with patients, staff and members of the public.
Elsewhere in the West Midlands, several NHS trusts have used private finance to help deal with debts.
In September, the South Warwickshire NHS Foundation Trust announced it was going into partnership with private firm Serco and the health watchdog warned the Mid-Staffordshire NHS Trust last month it had to find funds from elsewhere or face possible insolvency.