Olympic star Heather Stanning opens Whitbourne village shop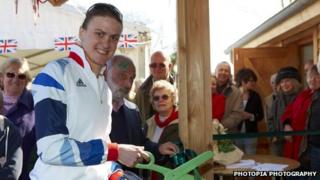 Olympic gold medal winner Heather Stanning has officially opened a village shop staffed by volunteers.
About 400 people saw the rower at the store in Whitbourne, Herefordshire.
A £250,000 Big Lottery Fund grant has been used to build the shop, along with other facilities, including a garden and car park.
Stanning, and rowing partner Helen Glover, triumphed in the women's pair for what was Team GB's first gold at the London Olympics.
The shop, next to the Live and Let Live pub, is run and staffed by about 40 volunteers and sells locally-produced food and drink.
Whitbourne Community Shop Association chair Martin Yarnit said: "People were thrilled to meet her and touch the gold medal and Heather is incredibly unassuming and very easy to talk to, so people enjoyed that."
Stanning is the niece of a Whitbourne Community Shop Association committee member and the granddaughter of one of its shareholders.
The rower, from Lossiemouth, Moray, was greeted by large crowds when she was welcomed home in August following her success.