New £16m Worcester Arena set to open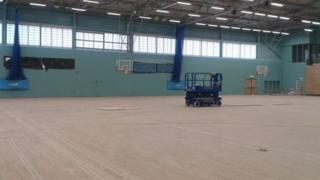 Following the "inspire a generation" message at the 2012 Olympics, Worcester youngsters will soon be able to take advantage of a new £16m sports complex.
The keys to the 2,000-seater Worcester Arena are due to be handed over to the city's university later this month, but clubs in the community will also benefit.
Built on the site of a former fruit and vegetable market, it is hoped the venue will stage international basketball, netball and badminton events, following its planned opening in April.
The final building work is taking place following the news that the Don Valley Stadium in Sheffield, where Olympic heptathlon champion Jessica Ennis trained, is to be demolished as part of council-approved cost-saving measures.
'Moving backwards'
The University of Worcester said it had been "very challenging trying to find funds" for its new arena, but there was "a clear demand for advanced sports facilities".
Explaining why it has been built, on a tour of the site, university head of the institute of sport and exercise science Mick Donovan said: "My philosophy is if you stand still, you actually find yourself moving backwards.
"We've been inundated with approaches from different sports who want to host events there and conferences."
Groups such as lottery-funded Sport England and governing bodies England Basketball and Badminton England have raised about £3m, but the university has found the rest of the money.
The complex overlooking the River Severn in Hylton Road will include three basketball courts, meeting spaces, a cafe, and a VIP area behind glass doors which can be opened for spectators watching sports events.
As well as being Worcester Wolves basketball club's new home for British Basketball League matches, the courts area can also be used for other sports, such as netball, badminton, volleyball, darts and boxing.
The arena boasts six changing rooms for up to 150 people in total, three rooms for referees, rooms for teaching and corporate events and a balcony with a view of the River Severn.
There has been an emphasis on wheelchair sport during the building work.
'Not an eyesore'
Worcester Wolves, who currently play at the university's St John's campus, hope to have a national league wheelchair team in 2015-16, and the arena, with a 50m ramp at the front, has large changing rooms and corridors as well as a room to store wheelchairs, the university said.
Mr Donovan said: "We've had visitors from GB wheelchair basketball and they're thrilled with it.
"They envisage bringing their teams to train and play here."
Mr Donovan said students already went out into the community to coach children and the new complex would allow local clubs to play and be coached at the arena.
"Throughout any given week there will be hundreds of children coming in to use it... whether it's for beginners' clubs or whether it's for their team's training or whether they've gone for individual one-on-one coaching."
The arena will be hired out for teams to use as training camps. There are plans for 60 Spanish children to come for coaching at an English language basketball camp.
Local reaction to the arena appears to be broadly positive.
Sue Wilson, from Hallow, near Worcester, said: "The community can use this, it's brilliant.
"It's great for the people of Worcester to have another opportunity to play sport."
While Worcester resident Ann Mayor said: "Maybe we're going to have world-class sport there. I'd love it.
"That [area] was nothing. It's been derelict for years... I think it'll be good for the city.
"It's not an eyesore. It's a modern building."