Plans for Wye Valley NHS Trust 'very worrying'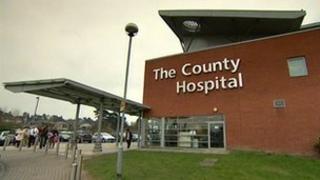 Union officials say plans to take over, break up or privatise a Herefordshire NHS trust are "extremely worrying".
Last week, managers at Wye Valley NHS Trust, who have to save £8.8m over 2013-14, said action was needed as the trust was too small to survive alone.
Steve Akers, Unison regional organiser, called on the trust to drop any privatisation plans, saying it was not the best option for patients.
The options will be finalised by the end of March and a consultation held.
Last week, the trust's interim chief executive Derek Smith said "no change is not an option" and promised that patients would remain "at the heart of what we do".
However, Mr Akers said evidence showed bringing in the private sector did not work.
He added: "Private companies' first duty is to their shareholders - they put profits before patients."
Financial stability
He quoted the example of Circle Holdings Plc, which took over the running of Cambridgeshire's Hinchingbrooke Hospital as part of a 10-year contract in February 2011.
In December, Circle's chief executive Ali Parsa announced he was stepping down and received a £400,000 pay-off.
A month earlier, the National Audit Office disclosed the company was more than £4m in debt - double the target level.
At the time, Mr Parsa said it was too soon to judge whether the contract had been a success.
Mr Akers said the best option for the Wye Valley NHS Trust would be for it to go into a partnership with a neighbouring NHS trust, especially one that had the financial stability of foundation trust and teaching status.
The trust has said that whatever happened, several essential services had to remain local to the area, including an accident and emergency department, emergency surgery and maternity and children's care.