Bredon Hill coin hoard returns to Worcestershire museum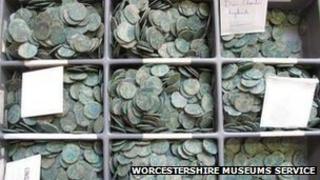 A Roman coin hoard uncovered in Worcestershire has gone on display in a county museum ahead of the launch of a new appeal to conserve it.
The 3,800 coins, dating back to the 3rd Century, were found by metal detector enthusiasts at Bredon Hill, near Evesham, in June 2011.
Some £9,000 was raised to bring the hoard back from the British Museum.
The coins are now at County Museum in Hartlebury. An appeal to keep them in Worcestershire will start next month.