Lickhill Primary School 'outstanding' after past failings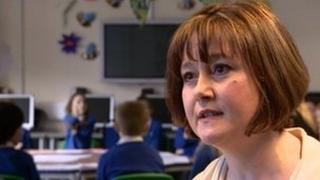 A Worcestershire school is celebrating after being described as "outstanding" by Ofsted inspectors three years after being put in special measures.
In January 2009, inspectors criticised lesson quality, the way writing was taught and the school's management.
But the Stourport-on-Severn school, which became an academy a year ago, was found to be outstanding in all four areas inspected last month.
Headteacher Helen Davies said: "We are absolutely delighted".
"It's been a culmination of a lot of hard work by everybody pulling together," she added.
'Clear path'
She said previous issues had included how pupils' behaviour was managed and problems with the quality of teaching and learning.
However, she said strategies were brought in for the whole school which aimed to make improvements in these areas.
Aparna Bhardwaj, chair of governors at the school, added there was a "shared vision" at Lickhill with the children and staff wanting to achieve success and everyone working together.
The Ofsted report found the school in Almond Way outstanding in its overall effectiveness and in areas of pupils' achievement, teaching quality, pupil behaviour and leadership.
Ms Davies was found to be a "highly effective leader with a clear path for the school's future".