Duke of Gloucester unveils Malvern Buzzards sculpture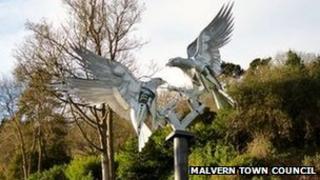 A £17,000 sculpture of two bird has been officially unveiled by the Duke of Gloucester.
The metal Malvern Buzzards sculpture has been put up in Rose Bank Gardens, Malvern, Worcestershire.
Both the town and district councils gave £7,500, with the remaining £2,000 being donated by individuals or firms.
The sculpture was designed and made by Walenty Pytel, from Ross-on-Wye, Herefordshire, to mark the Queen's Diamond Jubilee.
Asked why the birds were chosen, town clerk Richard Chapman, from the town council, said: "I think [there] was the suggestion the buzzards are often seen soaring over the Malvern Hills and it would be an appropriate sculpture to represent this.
"The gardens were under-used and the idea was there would be something in the gardens to attract people there.
"You see the statue and the gardens are like a gateway to the Malvern Hills."
Mr Chapman said there was a plan to renovate the gardens over seven to 10-years, which started in April last year.