Link road 'needed' for Hereford regeneration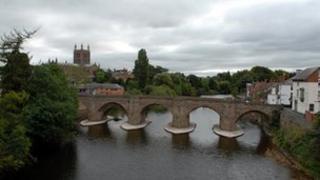 A planned £27m link road is crucial for the regeneration of Hereford, the council behind it says.
Herefordshire Council is expected to agree to the compulsory purchase of 26 acres of land at a meeting later.
Graham Powell, cabinet member for education and infrastructure, said talks were continuing and it hoped to reach a "positive conclusion" with affected businesses.
The road is part of a regeneration plan which would see 800 new homes built.
Mr Powell said the link road would provide access to the proposed Urban Village development, which included affordable new homes.
He said it would also alleviate traffic on the ring road and provide a new traffic hub outside of the railway station.
Newmarket and Blueschool Streets would also be upgraded for easier pedestrian access under the plans.
The Conservative-led council is to decide whether it will invoke its powers to compulsorily purchase land along the line of the proposed road in case it cannot reach agreement with any of the landowners.
Mr Powell said: "We have been having positive conversations with many of the businesses there, some have already moved and we are still in negotiations with others and I would sincerely hope we reach a positive conclusion with all of them."