Herefordshire crop failures lead to farming losses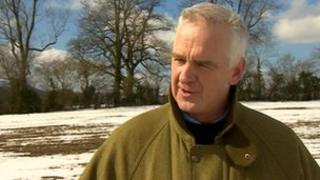 Herefordshire farmer Steve Deakins describes himself as "one of the lucky ones".
People in other professions would probably disagree.
In the past few days Mr Deakins confirmed that he had lost his entire crop of oilseed rape, 400 acres destroyed by a combination of rain and snow.
"Normally it should be be six or eight inches tall and at the end of March we've seen it going to flower," he said.
"On the bare patches where the snow has blown off you can see there's absolutely no crop here whatsoever."
Crop failures follow the death of about 150 lambs on his farm to the Schmallenberg virus in February and more recently an unknown number of lambs killed by snow and plunging temperatures.
Severe weather
Mr Deakins said it had been the worst 12 months in the 20 years he has farmed the site at Kinsham, near Lingen.
"You expect one problem in one department every year, be it drought or wet, or poor lambing percentages or something," he said.
"But this year absolutely everything that can go wrong has gone wrong."
His losses from the oilseed rape alone account for thousands of pounds and he said others in the area were in a similar position.
Funds are tight, but unlike many other farmers across the country, Mr Deakins thinks his business will survive.
Now he faces a difficult decision of whether to risk further funds by planting spring crops in the fields that remain under snow.
The National Farmers Union (NFU) said severe weather over the past year had "knocked the stuffing out of the industry".
Farmers across the country have faced droughts, floods and a long, cold winter in a little over 12 months.
Welfare payments
According to the Department for Environment, Food and Rural Affairs, all sectors, apart from poultry farming, saw incomes drop by between 11% and 52% last year.
The Royal Agricultural Benevolent Institution (RABI), which provides charitable grants to farming families, said it had seen a rise in emergency payments and in the number of calls to its helpline.
It paid out about £700,000 in welfare payments last year, £250,000 more than in 2011.
The charity said 2012 had been a difficult year, taking "many farmers to the edge", due to poor weather and rising costs.
Worryingly, RABI added that it had given out £250,000 in the first 10 weeks of this year, £100,000 more than in the same period in 2012.
Despite the pressures on the industry, the NFU said farmers were resilient and working hard to protect their businesses as far as they could.