Herefordshire Farmers' Club goes under the hammer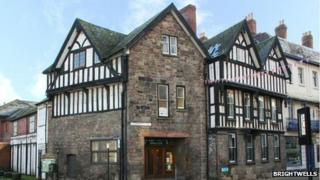 A building which was at the heart of Herefordshire's farming community for nearly 90 years is set to be sold.
The Hereford building, which became home to the Farmers' Club in 1926, is to be sold by Brightwells auctioneers later.
Hundreds of farmers used to fill the building after mornings at the livestock market for social events.
Brightwells said the premises, which dates from the early 17th century, is believed to be the oldest in the city.
"They were originally the East Gate into the city and parts of its construction still include a section of the original city wall," a spokesman said.
'Filled to rafters'
The property in Widemarsh Street saw its "halcyon days" in the years after World War II, when it was frequented by "ladies taking tea" and farmers meeting suppliers and traders, Brightwells said.
It was popular with families, who enjoyed the ballroom, dining room and skittles alley, although the club's main bar was exclusive to male club members until the 1980s.
John Williams, who was chairman of the Farmers Club Company and part-owns the building, said the club saw hundreds of farmers in a week during its hey day, when the market was still based in the city centre.
"It was heaving," he said.
Bill Wilde, a former club director and member, said one of the best events at the club he remembered followed local jockey Michael Scudamore's Grand National win on Oxo, in 1959.
"There was a dinner held to celebrate the win. It was an all-ticket affair with Michael Scudamore as guest of honour - and the place was absolutely filled to the rafters," he said.
The club recently folded and the premises has also seen harder times, including being hit by a fire last year.