SAS man Fred Marafono remembered at Hereford Cathedral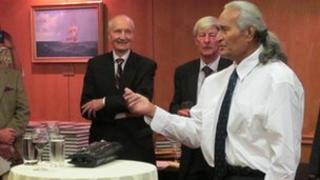 Hundreds of people from across the world have attended a memorial service paying tribute to a former SAS member.
Fred Marafono was one of the first Fijians to join the elite regiment, fighting in places such as Borneo and the Falklands during 21 years' service.
Mr Marafono, who previously served the King's Shropshire Light Infantry, died last month aged 72.
Dr Hamish Ross, who co-authored a book with him, said: "He certainly was a lion-hearted warrior."
"In the SAS he had a reputation for volunteering for as many missions as he could and as often as possible.
"He was in a league by himself and he introduced skills into the service that they adopted."
'Affection and respect'
Mr Marafono was appointed an MBE in 1983 and selected by SAS founder David Stirling to join him in KAS, a new private security firm.
He later spent about 20 years in Sierra Leone and published a book about his life with Dr Ross entitled From SAS to Blood Diamond Wars in 2011.
Dr Ross said: "It's remarkable the affection and respect all those who served with him had for him."
Mr Marafono returned to Hereford a few years ago to live with his family, but Dr Ross said he was still working in Central America at the age of 70.
He added: "Although he was at home in Hereford when he died, in a sense he never really retired.
"Fred died at the age of 72. He spent, I reckon, virtually his entire adult life practising his superb military skills."