Alexandra Hospital patients 'favour Birmingham over Worcester'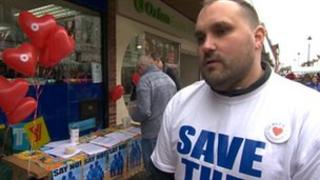 People in north Worcestershire would prefer hospital services to be transferred to Birmingham rather than Worcester if their local hospital is downgraded, an online poll suggests.
The two options for relocating services from Redditch's Alexandra Hospital have been drawn up by health officials.
An online poll by the "Save the Alex" group found 62% of people would rather go to Birmingham's QE hospital.
Of the 1,760 votes cast so far, only 12% have chosen the Worcester option.
A total of 125 votes, or 7%, chose Warwick Hospital while 19% of voters, or 329 people, said they would "elect not to go" to hospital rather than be treated outside Redditch.
Two options have been put forward as part of £35m reorganisation plans which will be the subject of a public consultation later in the year.
'Proven model'
Under the first option, some services at Alexandra Hospital, including part of A&E, would move to Worcester. Under the second option, the hospital would be taken over by a Birmingham NHS trust.
Save The Alex chairman Neal Stote said it was clear a take over by University Hospitals Birmingham NHS Foundation Trust, which runs Birmingham's QE Hospital, would be the favoured choice.
"It's closer, it's quicker but also that hospital is a leading teaching hospital. They're number one in what they do," he said.
"It's a proven model, unlike the Worcestershire acute hospitals who are struggling financially and indeed looking to further downgrade the Alex as opposed to invest in it."
The campaigners were out in Bromsgrove High Street on Saturday.
Mr Stote said the group wanted to get views from as many people as possible and pass them on to Redditch and Bromsgrove Clinical Commissioning Group (RBCCG) which has taken over the commissioning of services.
Health chiefs have said they need to find £50m savings by 2015, but RBCCG said it was determined that Alexandra would remain "a thriving local hospital" providing a wide range of services, including both routine and emergency care, as well as services for women and children.