Residents return home after Rotherwas industrial estate fire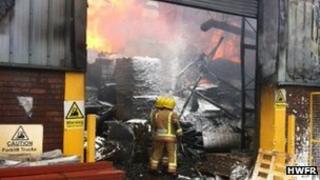 Residents have returned home after a major fire at a flooring factory forced them to be evacuated on Wednesday morning.
About 10 homes in Hereford were emptied shortly after 10:00 BST.
It is not thought anyone was hurt in the blaze at Bathgate Flooring on Rotherwas Industrial Estate.
Some of the company's 50 staff were evacuated from the site and 12 fire engines were called after the blaze that started at about 08:15 BST.
About seven hours later emergency services gave the green light for residents to go home, with the warning "smoke is likely to continue for the next few hours".
Cause unknown
Supt Ivan Powell from West Mercia Police said: "The information [from the fire service] is that their officers continue to tackle the fire and have successfully managed to contain the flames.
"It is anticipated that the fire will continue to burn for a number of hours. It is too early to say what the cause of the fire may be."
Those living near the fire continue to be advised to stay indoors and keep windows shut.
Elizabeth Shassere, from Herefordshire Council, said anyone with symptoms of coughing and wheezing, breathlessness, phlegm or chest pain should seek medical advice from their GP.
Dr Arif Mahmood, consultant in public health medicine at the council, added: "Motorists who have to travel through the smoke should keep windows closed, turn off air conditioning and keep their air vents closed."
The Environment Agency said no signs of contaminated water from the fire had been found in the nearby River Wye.