Nunnery Way football site 'not appropriate' for housing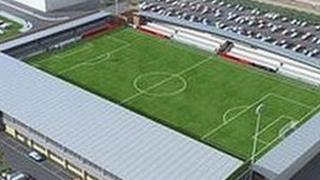 Housing has been ruled out as an alternative for a site in Worcester that was to be used for a new football stadium, the city council has said.
Worcester City Football Club recently scrapped plans to move to a new home at Nunnery Way in a bid to save itself from potential closure.
The club has been released from its contract with developer St Modwen.
The council's managing director, Duncan Sharkey, said the site was "not appropriate for housing".
Mr Sharkey said it was yet to receive an application for alternative use from St Modwen, which owns the land.
"They haven't approached us with any applications other than the existing one for the football club," he said.
"We wouldn't be supporting residential on that site at all. We'd have policy objections to that.
"It is a difficult site to access so provided the highways authority was comfortable with the access and arrangements then I think we'd be comfortable considering uses for the site."
The football club, which competes in the Conference North, is set to play in Kidderminster next season after leaving St George's Lane.
Mr Sharkey added the council would be happy to speak to the club over alternative sites for a new ground in the city.