Herefordshire Walking Festival begins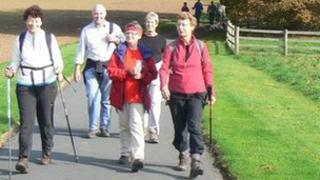 More than 1,500 ramblers are expected to descend on Herefordshire over the next week to take part in more than 50 organised walks across the county.
Herefordshire Walking Festival began in 2002 in a bid to entice tourists back to the countryside after an outbreak of foot-and-mouth disease in the UK.
Organisers say the event has helped stimulate the local economy.
Lisa Richardson, from the festival, said its reputation has grown over the last decade.
She added: "It was Hereford's answer to try and get tourists back in to the county to signal Hereford was open.
"We started with 15 circular walks. It's grown and this year's programme has 53.
"We have about 1,500 walkers who come from all over England and we have a regular from Belgium and one from France."
The annual festival runs until 23 June.