Herefordshire aerospace investment plans collapse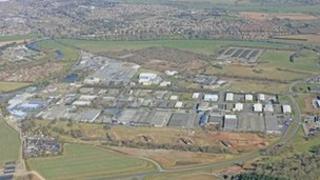 Two deals that were expected to create up to 1,500 jobs in Herefordshire have collapsed.
The investment by two Eastern European aerospace companies at Model Farm, in Ross-on-Wye, and Hereford's Enterprise Zone was announced earlier this year.
Ray Stone from Get It Group Midlands Ltd, which is brokering the deals, said it was "disappointing" news.
He said: "We're not satisfied there is a firm order book or sound business case behind these investments."
One firm, Market-Mats, had seen Ross-on-Wye as as a good area for production, while Georgian aviation firm Tbilisi Aerospace Manufacturing (TAM) was also negotiating a possible factory in Hereford's Rotherwas Enterprise Zone.
'Cautiously optimistic'
Mr Stone said: "People are disappointed but there's nothing we could have done differently that would have changed the outcome.
"We're keen to leave the door open - Herefordshire is a place both firms say they want to come so we're cautiously optimistic the plans are not a complete dead horse."
Enterprise zone chairman Bill Jackson said: "It is disappointing that we cannot progress this investment, despite extensive discussions involving the zone team, Get It Group, and its partners in Georgia and the Ukraine.
"It is important that companies which invest and create jobs in Herefordshire have sufficient market demand for their products and a review of the business plans by Get It Group found this was not the case."