UKIP councillor Eric Kitson faces no 'racist cartoon' charges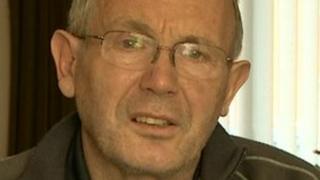 A UKIP councillor who admitted sharing offensive material about Muslims on Facebook will not face charges, the Crown Prosecution Service has said.
West Mercia Police said Eric Kitson, 59, was questioned but not arrested over "concerns raised by the public".
In May a computer was seized and a property in Stourport searched for evidence.
The CPS said there was "insufficient evidence" to charge the former Worcestershire county councillor.
Mr Kitson resigned from the county council less than two weeks after winning the Stourport-on-Severn seat on 2 May.
He apologised for sharing racist cartoons on the social networking site, which he said he had done only to show people how "disgusting" they were.
The UKIP member has since closed his Facebook account and has said national media attention had made him "really, really ill".
Messages 'not threatening'
Jayne Salt from the West Midlands CPS said: "Having had an opportunity to review all of the evidence which was made available to us by the police, we looked at a number of options to examine whether any criminal offence had been committed.
"Whilst many will have found [the messages] wholly socially unacceptable, there was not sufficient evidence to show that they were either threatening or posted with an intent to stir up religious hatred.
"Therefore, this did not reach the evidential standard required to enable a prosecution."
Councillor John Thomas, of Independent Community and Health Concern, won Mr Kitson's former seat at a by-election last month.