Worcester Warriors fireworks display halted after fires break out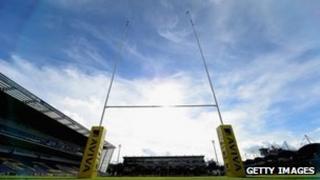 A fireworks display at a rugby club was halted after fires broke out on a roof and a marquee.
Hereford and Worcester Fire and Rescue Service said crews put out three small fires at the Worcester Warriors' Sixways ground on Saturday night.
Spectators at the event said the wind changed direction and fireworks were blown on to the stands.
The club said the display was ended "earlier than planned due to adverse weather conditions".
One spectator attending the event told the BBC: "When we saw the fire brigade arrive we knew that something seriously wasn't right."
Another said: "We just saw a load of firemen turn up and they all began climbing on top of the stands."
The fire service said two crews from Worcester were called to the ground and put out two small fires on the roof of a hospitality suite and another on a marquee.
The club said it would release a full statement on Monday.
On Friday, a number of people were injured after a firework apparently exploded in the crowd at an organised display in Childswickham Road, Broadway, Worcestershire.