Worcester's Angel Place market £341,000 revamp unveiled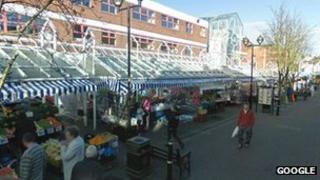 Plans for a £341,000 redevelopment of the site of Worcester's daily market have been unveiled by the city council.
Angel Place will have better pedestrian access by moving stalls into the middle of the street and trees will be planted along the route.
Work will be done by developers The Crown Estate, which owns the city's Crowngate shopping complex.
The council said it aimed to make Angel Place a "key gateway to the city" for people arriving at the bus station.
Worcester City Council will invest £120,000 in the project with the rest of the money coming from The Crown Estate and Worcestershire County Council, it said.
The authority will meet on Tuesday to discuss the funding for the scheme which would begin in April 2014.
Deputy leader Geoff Williams said: "This is a great opportunity to create a market that will be able to grow and attract more visitors.
"We want to see a bigger, more modern and more appealing retail area in Angel Place."
He said discussions would be held with market traders about what temporary arrangements could be made while the refurbishment is carried out.