Worcester City fans plan club takeover and new stadium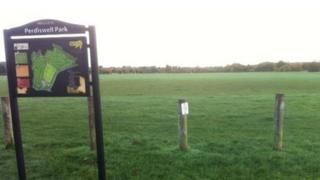 A group of non-league football fans have revealed plans to take over their club and build a new £2.1m stadium.
Worcester City FC moved out of St George's Lane, its home for 108 years, earlier this year.
Since then the Conference North club has been sharing Kidderminster Harriers' Aggborough stadium.
Worcester City FC Supporters' Trust has developed plans for a takeover after the club scrapped plans for a new ground at Nunnery Way.
The club revealed it was facing financial difficulties, including a capital gains tax bill of £400,000.
Club director Rich Widdowson, who is also on the board of the supporters' trust, said becoming fan-owned would allow the club to apply for grants from bodies such as Sport England and the Football Association.
No 'white elephant'
To take control the trust would need to control 51% of the 300,000 shares in the club.
The trust's secretary Rob Crean said it would be asking the club to change its constitution to allow it to become fan-owned.
"That proposal would have to be approved by shareholders at the annual general meeting," he said.
Mr Crean said clubs such as Portsmouth, AFC Telford and Wrexham were already being successfully run by fans.
If the supporters' trust succeeds in taking control it plans to submit plans for a 4,000-seat stadium, costing £2.1m, next to an existing sports centre at Perdiswell, along with an all-weather pitch for schools and the community to use.
Mr Crean said: "If we're going to maximise the potential of what we're building up here we couldn't just build the football stadium as a stand-alone white elephant-type thing,
"If we're going to invest in the place we need to make it revenue-generating,"
He said the all weather pitch could be hired out to raise money for the project.
The city council has considered building a new swimming pool at the Perdiswell site.
Robin Walker, Conservative MP for Worcester, said the club had been in financial difficulties for a long time and a supporters' takeover was "absolutely the right thing to do".
"It would be very welcome to have that local community feel back in the club and to have the club back in the city," he said.
Worcester City Council leader Councillor Adrian Gregson has said there is "an enormous amount of goodwill" towards the club.
"A city like Worcester needs a football club - the tradition of having the club here is part of its heart," he said.
The plans for the new stadium will be officially unveiled later after a meeting of the supporters' trust.