Evesham bell tower wins lottery grant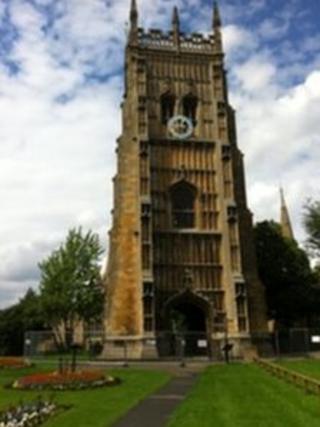 A project to restore a historical bell tower in Worcestershire has been awarded a £40,000 grant from the Heritage Lottery Fund (HLF).
It will fund development work, including putting together more detailed plans.
The scheme will progress to the second round of lottery funding where it will have access to larger grants to help towards its £500,000 cost.
The work will see the restoration of stonework, among other repairs.
As part of the initial lottery grant, a member of staff will be hired to oversee the plans, which are expected to see trials of different mortar and detailed photos taken of the stonework.
'Not falling down'
So far, more than £45,000 has been raised towards the conservation work on the grade I listed bell tower.
It is one of the few buildings to survive the dissolution of Evesham Abbey by Henry VIII.
Chair of the appeal group Sue Ablett said impressionist Alistair McGowan, born in Evesham, was among those to donate to the appeal.
"A lot of the stonework needs quite significant repair," she said.
"It's not falling down, but in order to ensure the stonework and the features aren't lost we need to spend quite a lot of money on the conservation of it."
The building was closed in August 2012 over safety fears, but reopened after urgent repairs were carried out the following month.
The bell tower was built in about 1530 to hold the bells of Evesham Abbey and the last major conservation work was carried out in 1951.