Work to save 400-year-old Dodderhill oak trees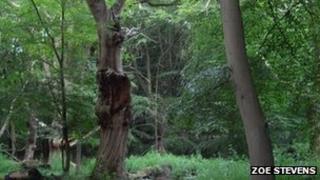 Work to save 400-year-old trees at a Worcester beauty spot will be carried out before Christmas.
The veteran oaks at Dodderhill Common Nature Reserve are a haven for wildlife but will die without the work, Worcestershire Wildlife Trust says.
Trees and plants around the oaks will be removed to provide more nourishment from the soil and moisture.
James Hitchcock, conservation officer for the trust, said the 12 or so trees were "essential" to the landscape.
"We have a real responsibility for ensuring the survival of these trees," he said.
Future conservation work, to ensure the ancient trees continue to grow, will include removing brash from around the trees on a regular basis.