Worcestershire leisure park fire 'caused by Chinese lantern'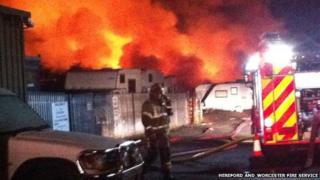 A fire at a camping and caravanning centre in Worcestershire is thought to have been started by a Chinese lantern.
About 50 caravans and mobile homes were damaged in the blaze at Croft Farm Leisure Park, near Tewkesbury, in the early hours of Sunday.
Hereford and Worcester Fire Service Group Commander Mike Cunningham said Chinese lanterns were seen in the area.
A lantern was also thought to be the cause of a major fire at a waste recycling plant in Smethwick in June.
The Chief Fire Officers' Association has called for an urgent review of how lanterns are used and there have been pleas to introduce licensing for their release.
Mr Cunningham said: "Whilst these lanterns are undoubtedly popular and beautiful sight, the potential damage they can cause is significant."
Nobody was injured in the fire at Croft Farm and the fire service said crews were able to stop it spreading to a 2,000 litre propane gas storage vessel.
At its height more than 10 fire units were at the site from Gloucestershire as well as Hereford and Worcester Fire Service.
The owners of Croft Farm have been unavailable for comment.