Wye Valley NHS Trust apologises after critical report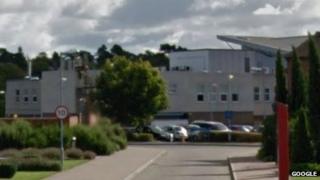 A hospital trust in Herefordshire has apologised after patient safety was criticised in a report by NHS England.
Serious concerns were raised about safety, privacy and dignity in the findings at the Wye Valley NHS Trust.
After identifying high death rates, an independent panel visited hospitals in the county for an emergency Rapid Responsive Review.
The trust said the report also highlighted some strengths, including committed and compassionate staff.
The review board made 44 recommendations, including immediate actions to make sure patients in the day case unit and theatres are safe.
It highlighted four key areas of concern:
Inadequate medical and nursing staff on some wards
Improvement needed in tracking and moving patients
Lack of a plan to improve and monitor patient experience
Improved systems and processes could reduce excess mortality
Derek Smith, the trust's chief executive, said all the highest priority recommendations would be completed by the end of January.
He said a "detailed and robust action plan" had been put in place to address the key issues.
"We apologise to any patients who felt the care they received from us fell below the standard they expected and assure our patients and their carers that we are doing all we can to ensure that high standards of care are consistently available," he added.
Jesse Norman, Conservative MP for Hereford and South Herefordshire, said: "We know the hospital has been struggling with the relatively poor funding it has and the PFI contact that it sits under.
"The hospital is emerging from a period in which it wasn't as well run as it should have been."