£125m for Hartlebury waste incinerator approved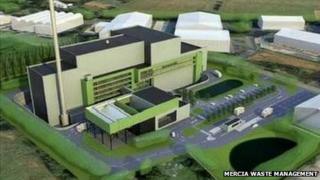 Worcestershire County Council has approved £125m of funding for a waste incinerator plant in Hartlebury.
Plans for the facility were passed in December by the authority and Herefordshire Council, who are jointly funding the project.
The incinerator will be managed by Mercia Waste Management and will supply energy to 20,000 homes per year.
Herefordshire Council, which is likely to pay an extra £40m towards the plant, will discuss the plans on 7 February.
The site will be called EnviRecover and would create 30 permanent jobs and around 200 jobs during the construction process, Mercia Waste Management has said.
The local authorities will take it on once the firm's contract expires in 2023.
A council report has said the site would be in use "until about 2042", by which time both councils would have spent £1.6bn on the plant.
That figure would top £2bn if "nothing was done", a council spokesman said.
A spokesman for Worcestershire residents Against Incineration and Landfill (WAIL) said their concerns "had been ignored" when the plans were passed last month.