Worcestershire village water was 'unfit for human consumption'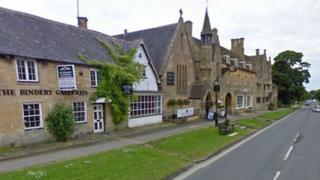 A utility company has been fined £92,000, after supplying water to a Worcestershire village that was "unfit for human consumption".
A court heard how cattle slurry had contaminated supplies to Broadway in November 2012, meaning E. coli bacterium was found in tap water.
Severn Trent admitted 11 charges at Coventry Magistrates' Court on Monday.
The Drinking Water Inspectorate, which brought the case, said the villagers' health had been put at risk.
Slurry from cattle
The court heard Severn Trent had begun to receive reports of discoloured water with "unusual tastes and odours" coming from villagers' taps in Broadway on 21 November 2012.
The company initially assured villagers the water was safe but subsequent investigations found E. coli and Cryptosporidium bovis in the water.
On 23 November they advised customers not to drink the water without boiling it first. Supplies were restored to normal on 3 December.
When Severn Trent investigated, it was found slurry from a nearby cattle field had been running into the water through a broken pipe, thought to have been disconnected.
Professor Jeni Colbourne, chief inspector of drinking water, said: "The inspectorate brought this case because the company didn't listen to consumers and put their health at risk as a consequence of systemic failings in its approach to safeguarding tap water quality."
A spokesperson for Severn Trent said: "There were no confirmed reports of illness resulting from the event.
"We'd like to say sorry once again to those customers who were affected and for the inconvenience caused.
"We take water quality incidents extremely seriously."