Worcestershire County Council agrees £30m budget cut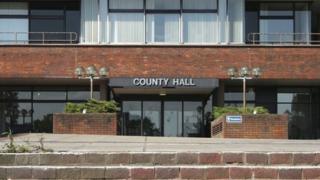 Worcestershire County Council has approved £29.6m of cuts to its budget for this year.
The Conservative-led council said it needed to save £80m over the next three years and would increase council tax by an average of 1.9%.
The council plans to reduce subsidised bus routes and cut spending on services for the elderly and disabled.
Union members and volunteer groups gathered outside County Hall during the meeting earlier in protest.
About £13m of cuts would come from adult social care services and the council said an additional £4m would be spent on children's services.
The council said it aimed to "limit demand" for health and adult social care by focussing on independent living and support.
After responses from the public, councillors said an extra £1m would be spent to keep subsidised bus services running until September, though a long-term solution still needed to be found.
Previously, council leader Adrian Hardman said no more jobs would be cut on top of the 1,500 job losses expected.