Worcestershire village fires 'were arson' say police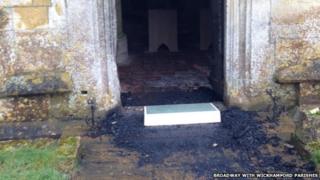 Several fires in a Worcestershire village were started deliberately, police have said.
Officers said they knew of four fires and one attempted fire in Broadway between 17:00 GMT on Monday and 08:00 on Tuesday.
The village's 11th Century church, community hall, library and police station were targeted, along with the doctor's surgery.
Police said the village was "otherwise a very peaceful place".
'Such a shock'
St Eadburgha's Church had its 12th Century oak doors seriously damaged in the attack.
Rev Michelle Massey, the church's vicar, said: "It was such a shock to find the church door had been vandalised and also four other public places in the village.
"We are grateful no-one seems to have been hurt but are extremely sad by what has happened."
She added the police and fire service had "worked tirelessly" and had prevented further damage to the buildings.
West Mercia Police said the church doors had been set ablaze between 17:00 and 00:30.
Between 23:30 and 00:30, two entrance doors and a side exit at Lifford Hall, the community hall, were set on fire.
Between 00:15 and 00:30, the front door of Broadway Police Station, in Leamington Road, was set alight. The door of Broadway Library was also set alight, at about 00:30.
At 08:00, staff at Barn Close Medical Surgery found flammable liquid had been thrown over the front door but not ignited.
Det Insp Neil Austin said: "Thankfully no-one has been hurt but obviously the consequences of these fires could have been far worse and we need to find those responsible as soon as possible."
He said a small, dark-coloured car which "may or may not be involved" was seen leaving the scenes of the police station and library fires.
Hereford and Worcester Fire and Rescue Service said they were working closely with the police.