Forge offers ironwork therapy for brain injuries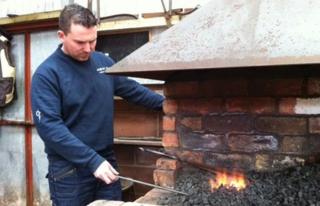 People with head injuries, mental health problems and addictions have been offered the chance of blacksmith training as part of their recovery.
Courses have been set up at Oldfield Forge in Garway Hill, Herefordshire, by former nurse Nicky Heath and her husband Aaron, a blacksmith.
Mrs Heath said her nursing career inspired her to think about therapy.
"We believe [the programmes] will help heal vulnerable or emotionally fragile students," she added.
Mr Heath is in charge of the training.
"I'll get some fulfilment from passing the skills to others and keeping the craft alive. But my real passion is the actual work. I still enjoy getting my hands dirty," he said.
Helen Mapp, from the brain injury charity Herefordshire Headway, believes the creative hands-on nature of the job is ideal for rehabilitation.
"It is something to focus on, and when you've made something there is a sense of achievement," she said.
A 24-year-old man, who did not wish to be named, who has signed up for the course in May after suffering serious head injuries said: "It's amazing to think you can just heat up a bit of metal and turn it into something different, something beautiful."